The History of Art Therapy
British artist Adrian Hill first used the term art therapy in 1942. While spending time in a sanatorium recovering from tuberculosis, he found that drawing and painting had therapeutic benefits.
In 1945, Hill wrote a book on art therapy called Art Versus Illness. In the book, he wrote, "To be happily occupied is at all times a gift from the gods, and in a period of long convalescence, it is a positive saving grace." He recommended art therapy to his fellow sanatorium clients, and upon his recovery, began to treat clients of his own.
Another pioneer in the field of art therapy was Margaret Naumberg, the founder of the Walden School in New York. Often called the mother of art therapy, she promoted the approach in the United States. She said that children were healthier and developed better when taught to express themselves creatively.
Naumberg believed that art therapy could promote healing by helping people uncover repressed thoughts and emotions while providing a framework to discuss them. Beginning with her 1947 book, Studies of the "Free" Expression of Behavior Problem Children as a Means of Diagnosis and Therapy, she wrote several books on the topic.
Psychologist and artist Hanna Yaxa Kwiatkowska was also an important figure in art therapy. Born and educated in Europe, she came to the United States to work at the National Institute of Mental Health.
A sculptor, Kwiatkowska combined her passions by using drawing in her family therapy practice. While she originally hoped that it would aid people with intellectual challenges to express themselves, she found that the therapy also helped people with psychological conditions and their families.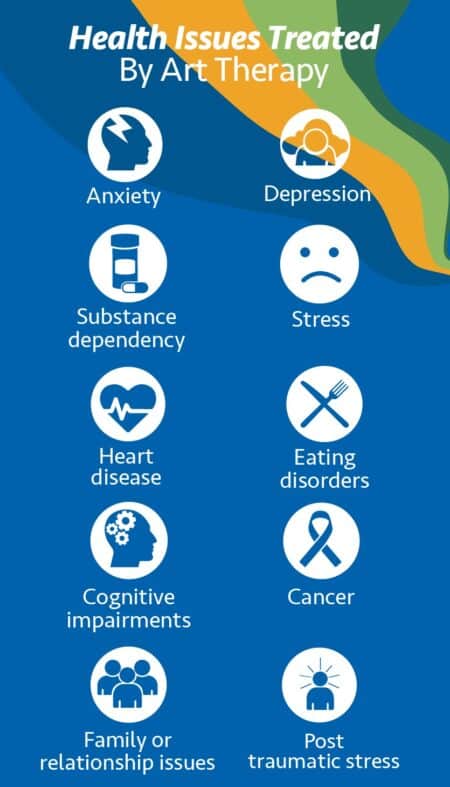 What Are Some Theories Behind Art Therapy?
Today, there are different approaches relating to art therapy:
Analytic art therapy: Closely linked to psychoanalysis, this method focuses more on the client and therapist than on the art. The art is a means for the two to communicate.
Art psychotherapy: In this method, the psychotherapist analyzes the client's artwork and their verbal communication about the work.
Art as therapy: This method encourages clients to create art to provide therapeutic benefits instead of providing interpretations about it.
Art Therapy: Two Definitions
There is no single definition for art therapy, but the American Art Therapy Association defines the field as "an integrative mental health and human services profession that enriches the lives of individuals, families, and communities through active art-making, creative process, applied psychological theory, and human experience within a psychotherapeutic relationship."
The British Association of Art Therapists defines art therapy as "a form of psychotherapy that uses art media as its primary mode of expression and communication."
What Is the Point of Art Therapy?
The purpose of art therapy is to promote healing. Professionals have used art therapy to help clients with a wide range of conditions, including emotional, physical, and psychological problems as well as with various diseases and disorders.
 How Does Art Therapy Work?
Scholars believe that art therapy may be effective because the act of creating art strengthens neurological connections in the brain.
Another aspect that may strengthen the effectiveness of art therapy is a phenomenon called containment. Containment allows clients to use visual representations to contain difficult thoughts and experiences that might arise during therapy.
Containment occurs in a specific branch of art therapy called mandala art therapy, which encourages a client to confine their drawings to a circle.
What Should a Client Expect in an Art Therapy Session?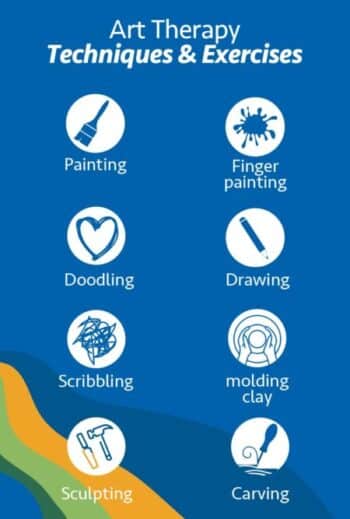 There is no single format that an art therapy session takes. Art therapy occurs in a wide range of settings and individual art therapists may alter how they practice to suit the needs of their clients or the institutions where they are practicing.
As with other forms of therapy, a new client can expect to spend some time getting to know their therapist at the first session. This session also allows the therapist to get to know their client and assess their therapeutic needs.
How Does a Person Become an Art Therapist?
Generally, an art therapist is required to have a master's degree at minimum in order to practice.
In the United States, the Commission on Accreditation of Allied Health Education Programs (CAAHEP) and the American Art Therapy Association set and maintain standards for art therapy education. Another organization, the Art Therapy Credentials Board (ATCB), monitors art therapists to ensure that they provide quality, ethical care.
Each U.S. state also has its own regulations. Some choose to categorize art therapists with other types of therapists, while others require licensing standards for art therapists.
How Can Art Therapy Help Treat SUDs?
Substance use disorders (SUDs), also called drug and alcohol addiction, is the continued use of drugs or alcohol despite the substances' harmful effects to the person.
In recent years in the United States, the occurrence of SUDs has reached crisis proportions. As a result, there have been numerous attempts to find effective therapies to treat them. How does art therapy work as a treatment for SUDs and how effective is it?
Researchers in a 2014 study examined data from close to 300 substance use disorder treatment centers, taking an in-depth look at how professionals treat SUDs. The researchers found that 36.8% of such programs used art therapy, demonstrating that it is an important option in many current treatment programs.
The number of studies on art therapy treatment and SUDs remain relatively small, however, so scholars need more evidence to determine the therapy's effectiveness.
One article published in Art Therapy: Journal of the American Art Therapy Association discussed whether art therapy might be more effective than 12-step sobriety support programs. Another piece published in the same journal examined if art therapy could counterbalance 12-step programs because art can help people explore spirituality, a component of 12-step programs.
Generally, people view art therapy as a therapeutic method to use with other forms of therapy. This is especially true for substance use disorders (SUDs), where ongoing recovery is so important.
Art therapy may be effective because of the relationship among substance use disorder and mood and emotion regulation. This form of therapy can help with such regulation.
How Mood and Emotion Regulation Affect Substance Use Disorder
There is no definitive reason that explains why people experience substance use disorders (SUDs). But there is a definite connection between a person's difficulty in regulating emotion and mood and experiencing SUDs.
In particular, numerous studies have explored college students' ability to regulate emotions and how this ability affects substance use. There have been multiple studies that provide evidence that increased emotional intelligence can prevent people from developing SUDs. Additionally, other evidence shows that learning techniques for mood and emotion regulation can be beneficial for treating SUDs because they can reduce cravings.
How Art Therapy Helps with Mood and Emotion Regulation
Because it can help with mood and emotion regulation, art therapy can be a potentially powerful tool for treating substance use disorders. One study published by Harvard Medical School showed that not only did art therapy help prevent cognitive decline, it also provided stress relief and aided with communication, two factors that can help with emotion regulation.
Combined with talk therapy, art therapy can help people process emotions while improving self-confidence and self-awareness.
Just precisely how creative endeavors can help to improve emotion regulation is not yet entirely understood. Nonetheless, more researchers are investigating this topic. A 2019 study created a method of quantifying and measuring emotion regulation strategies to better understand creativity and to assist future studies of art therapy and its ability to treat mental illness.
While additional studies are needed to examine art therapy and substance use disorders (SUDs), there appears to be a correlation between a mind-body-spirit (holistic) approach to treatment and relapse prevention. Art therapy is an exciting and growing option for SUD treatment.
How to Begin a Career as an Art Therapist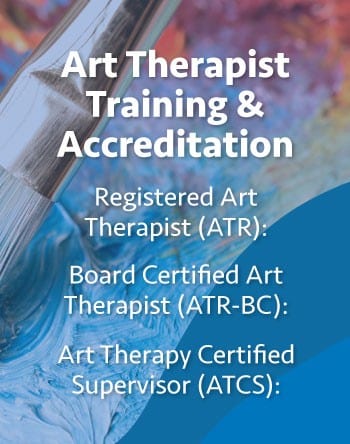 To become an art therapist or another kind of a therapist, you generally need to earn at least a master's degree. It's also a good idea to pursue related courses at the undergraduate level. They can include psychology and art classes as well as courses in sociology and education.
If you are considering a career in art therapy, it's worth noting that the field is expected to grow. The U.S. Bureau of Labor Statistics predicts that the field will expand by 8% in the decade that began in 2019.
Once you have chosen a career path and are ready to begin graduate school studies, there are many programs to consider. According to Best Counseling Degrees, some top schools for art therapy education include:
New York University
Florida State University
George Washington University
Pratt Institute
Drexel University
Springfield College
Nazareth College
Marywood University
Albertus Magnus College
Cedar Crest College
Programs generally last two years, with additional time for supervised clinical experience.
To practice, you might not need a degree specifically in art therapy. Because many U.S. states group art therapists with other therapists, a different therapy degree combined with an arts background may help you pursue your career.
Art therapy is a growing field that has the potential to help many.

Sources
Medical disclaimer:
Sunshine Behavioral Health strives to help people who are facing substance abuse, addiction, mental health disorders, or a combination of these conditions. It does this by providing compassionate care and evidence-based content that addresses health, treatment, and recovery.
Licensed medical professionals review material we publish on our site. The material is not a substitute for qualified medical diagnoses, treatment, or advice. It should not be used to replace the suggestions of your personal physician or other health care professionals.
A Message From Our CEO